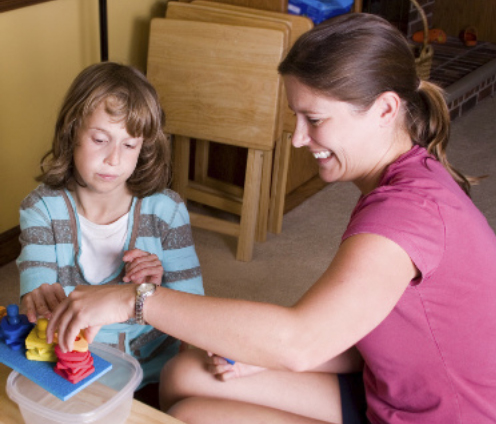 As each client is unique and has individual needs, I provide a wide variety of services to address the specific needs of clients and their families. Types of services include:
Individual Therapy: I work closely with the child or adolescent to identify problematic behaviors or feelings and develop interventions based on their unique needs. Interventions may include play therapy, behavioral interventions, anxiety reduction techniques, or social skill-building activities.
Parent – Child work (parent coaching): I work with the parent(s) and child together to model interventions in a real-life manner.
TEACCH Strategies* and visual aids: I help parents learn more effective language and ways of interacting with their children, including using visual cues and altering the environment of the child. * Treatment and Education of Autistic and Related Communication-handicapped Children
Family/Sibling work: I provide family therapy that often focuses on identifying unhelpful family interactional patterns through various techniques including family art projects or games. I also explore and address sibling dynamics when needed.
Collaboration with other providers: I provide consultation with outside providers including schools, counselors, psychiatrists, nannies, etc.
Groups: I run groups at various times throughout the year. These include parent education, social skills, anxiety, and self-esteem groups. Please contact me for information about groups.
I provide a free 30-minute phone consultation to assess the needs of the family and to set up an intake session. During the intake session, we will review necessary information about you, your child, and your family in order to make preliminary decisions about types of interventions that may be helpful. I will ask you to review my informed consent agreement and financial policy agreement during intake. I may also ask you to fill out a few forms prior to arrival in order to expedite the services and to allow more time for discussion.
Below is my standard fee structure for therapy services:   
Individual (50 min, Child, Adolescent, or Family): $145
Consultation with other providers: $145 per hour. My fee for additional services requested (e.g., phone calls with schools, paperwork or letters) that exceed 15 minutes is $145 per hour and will be broken down by 15-minute segments for billing.  
A set number of sliding scale spaces are available. Please contact me directly for further information. I regret that I currently do not accept insurance but your insurance plan may reimburse you for my out-of-network services. I will happily provide you with appropriate paperwork to submit to your insurance; however, I cannot guarantee that your insurance company will reimburse you at the expected rate. I may also be able to provide single case agreements with some insurance companies.
Contact Information
1805 South Bellaire Street, Unit 400E
Denver CO 80222
Phone: 303.756.1355
Fax: 303.563.2125